Posted on by Zaza
Max Mayer | Max Mustermann
Tweet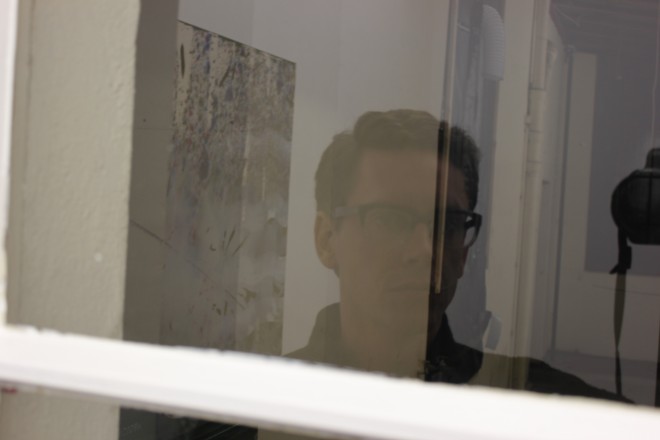 Max Mayer's stories of his past and present, thoughts on the art world and his role as a gallerist are enthralling and stimulating. He grew up surrounded by famous pop artists walking in and out of his home, drew with Keith Haring as a child, opened up his first project space while attending the Hochschule für Gestaltung in Karlsruhe (Art and Design School Karlsruhe), and put as much detail and effort into his musical education as he did into his artistic one. While browsing for new records at a local record store in Karlsruhe as a student, he met his friend and music mentor Kristian Beyer, who ended up having a great role in Mayer's first entry into the art market.
Two days after Art Cologne|NADA closed, we met happy and exhausted Max Mayer in his gallery in Düsseldorf. Mayer talked to us about his participation in the art fair, the significance of the fusion of art and music, and the sound Keith Haring's leather jacket made.
artvantgar.de: Have you ever wanted to be asked something specific from an interviewer- perhaps something you would like to talk about?
Max Mayer: Actually, nothing that I can think of. But I can definitely tell you everything I do not want to be asked about. Thing is, all attention is laid upon who I am, who my father is (Hans Mayer) and my girlfriend. But not on who I exhibit. Every second month I focus on a new artist… and then that's all I do. Of course, if I would have gone to Paris, as originally planned, I doubt I would have gotten all this attention. It's being in Düsseldorf, the same city as my father, and having all my connections here.
Have you had funny or generally memorable interactions with any of your buyers?
I remember when I sold my first work ever to Kristian Beyer of Âme at my project space in Karlsruhe while I was a student. He was an important part of my musical education. It was a beautiful moment: I could give something back to someone who gave me something! We now exchange music and art, and he never misses a show. He influenced me on music and I influenced him on art. It was such a nice moment to then officially have started working in the art market. It's not about selling art or going against art, but about a great sale to a great person or a great institution. You can really change something in the way the person thinks and you can do something very good for the piece or the artist. That, of course, is the ideal. It not always happens but it's something to aim for.

Did you start DJing through Kristian Beyer? Or did you already beforehand?

I was a hip hop DJ beforehand. It all started with this great record store, Die Plattentasche, in Karlsruhe… A record store like that definitely does not exist in Düsseldorf. I remember, in my first semester, about 7 years ago, I went into the store that's as big as this space [the gallery] and tons of people were hanging out. Kristian, who runs the place, was behind the counter. I went over to him and introduced myself, told him how I was new in town, a hip hop DJ, and that the music I was listening to was starting to bore me. I really wanted to get into electronic music but had no idea what to listen to. Kristian was very nice, asked me to sit down, made me coffee and put some records together for me. The first record I bought there is still one of my favorites: Moodyman's "Black Mahogani". I went back to the store every week or second week, and I always sat down, got coffee and Kristian put records together for me. After some time I then knew what direction I wanted to get into. I was such a beautiful moment… how powerful a record store could be! Something like that would never happen on the internet.

That's true. So you have this beautiful interaction with music and art and you both get to keep on sharing this with each other…

Absolutely. We have dinner together, talk about stuff, and I show Kristian great catalogues and what shows to see. We went to see a lot of shows when we lived in Karlsruhe. He is somebody who works like me – who is crazy about seeing shows.
When it comes to the combination of music and art: Düsseldorf has been a place where the relation between both has been the strongest in Germany. It's been like a tradition, where people studying art at the Düsseldorfer Akademie start making music on the side. Every generation has their people who made that step. Like Kraftwerk, Kreidler… they were all made up of artists from the Akademie who went into music. Salon Des Amateurs [club/bar situated in the Kunsthalle close to the Akademie] is that moment combined – people who are studying and getting into making music.
When was the last time you DJed?

At the Akademie graduate exhibition this past February! It was a Monday night and lasted until 5am. I don't know if you heard about it, but it was the kind of party that was ended by the police.
Why did it end?
Because it was a great party!
Listen to one of Max Mayer's mixes here.
How did your taste in art come about, in who and what you show, and does it have anything to do with your education at HfG (Hochschule für Gestaltung in Karlsruhe)?
Yes, I guess a lot. It's kind of hard to answer because you really need to take a step back and look at yourself from the outside. There is a lot within myself that is shaped by my parents, our house, what my dad showed and shows, and the influence my art theory program had on me in Karlsruhe. I have to have two steps fulfilled in order for me to be interested in work. I need to see the work on its own. The work has to stand for its own, it has to speak to me. I really believe you can educate yourself… the more shows you go to, the more you shape and educate your eye.
After growing up and being surrounded by your parents' art collection, did your education at HfG change or open up more aspects of your taste in art?
It definitely changed. My dad is really about visuality. He has so much knowledge and memories of what happened in the last 50 years. I would say I have a balance between the important visual aspects and then the second step, which is reflecting and thinking what art can mean. The artists are important to me, which is why it's important to get into contact with the people who did the art piece. I need to see if they are interesting and if they stand for their work as much as they do for themselves. It's definitely rare when both things happen.

Let's talk about NADA! So this has been your first art fair. How was it being part of NADA?
It was great and almost a bit overwhelming. It was interesting to see how the art fair is really a representation. You can have a gallery and exhibitions, but if you don't have a representation in that realm then you almost don't exist in a way. Maybe on a local level, but not in an international art market. I wasn't aware of it before. When it happened… it was really present. It was good and unexpected. I do shows here [in Düsseldorf] and like to do them well. I think they play on an international good level. The way I made my booth is like a business card- you represent who you show and how you show, on what level you want to get things done. It's about the architecture, how you talk about work, how much you show and in what context. Everything I do in the gallery is what I did at NADA in a small version. I think people recognized that.
I really want to know about the influences you had growing up: did you recognize  what was surrounding you at home and how significant it was? What stuck with me over years is you drawing with Keith Haring- how was that for you? Did you realize at that time who it was?
No, not at all. As a young child you definitely recognize the energy these people bring across and realize that there is something special. Just like Max Bill and Dennis Hopper- when they entered the room, you immediately felt this energy they exposed. But as a child you don't know what art is and what it means. My parents never forced my sister and I to go to a museum or the gallery. I basically didn't go to see much art before I was 13. Naturally my home is a visual influence, but what my dad actually did for a living was always very abstract to me. Keith Haring became important to me because I was in this hip hop and graffiti phase. Suddenly there's this guy who is not only significant to me in this hip hop context but also this thing called 'art' that my dad has. Haring was the bridge to everything else I did. You don't necessarily see the influence but he was very important.
What do you remember about him?
I remember him speaking 'american', which was a weird language to me. He also had this thick leather jacket which made this very loud noise when he moved.
Amazing what kind of details kids remember.
Also, my godfather Max Bill was very important to me. It was always nice being around him. You know when kids give kisses on their family's cheeks? I remember I didn't like giving him a kiss on the cheek because he had a stubble… and it was really spiky… and I always had to do it.
**Current exhibition at Max Mayer: artist Claudia Kugler. Runs until May 12th and opening hours are Tuesday to Friday 1pm – 6pm and Saturday 12pm – 4pm. For more information please visit www.maxmayer.net  
Monopol's german interview with Max Mayer at Art Cologne|NADA.