Posted on by Zaza
Essentials: Ian Kuali'i
Tweet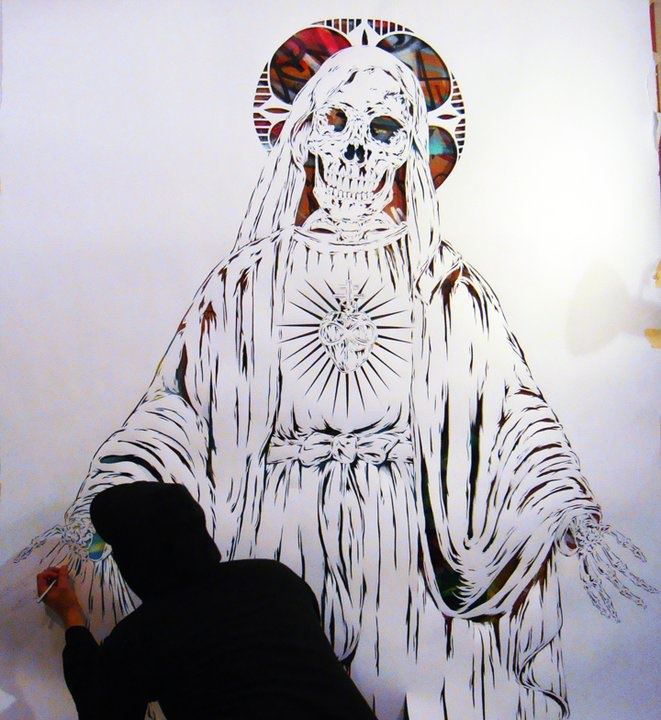 Ian Kuali'i is quite a mix. A wild and happy spirit, Ian grew up on opposite sides of the coast. Ian's work is influenced heavily by his heritage. Born in Southern California, raised between there and Maui, Hawaii, and based in NYC since for the past 8 years. In his work he focuses on the detailed technic of hand cutting paper into mythological, spiritual and empowering images. He then adheres them onto wood panels and other found objects.
Cutting paper is a great meditation to Ian: "One can't erase a razor line so the process teaches me to be patient and gentle while at the same time destroying to create". Next to being a fine (cutting) artist, he is an "Art Mercenary", who is trusted with troubleshooting and executing the difficult tasks for artist who select him. Ian has worked with Blek Le Rat, WK Interact, Mare139, Kid Zoom, Ron English and his mentor Doze Green. Doze Green has not only been his biggest artistic inspiration since his childhood, but he has been working with him for the past 5 years.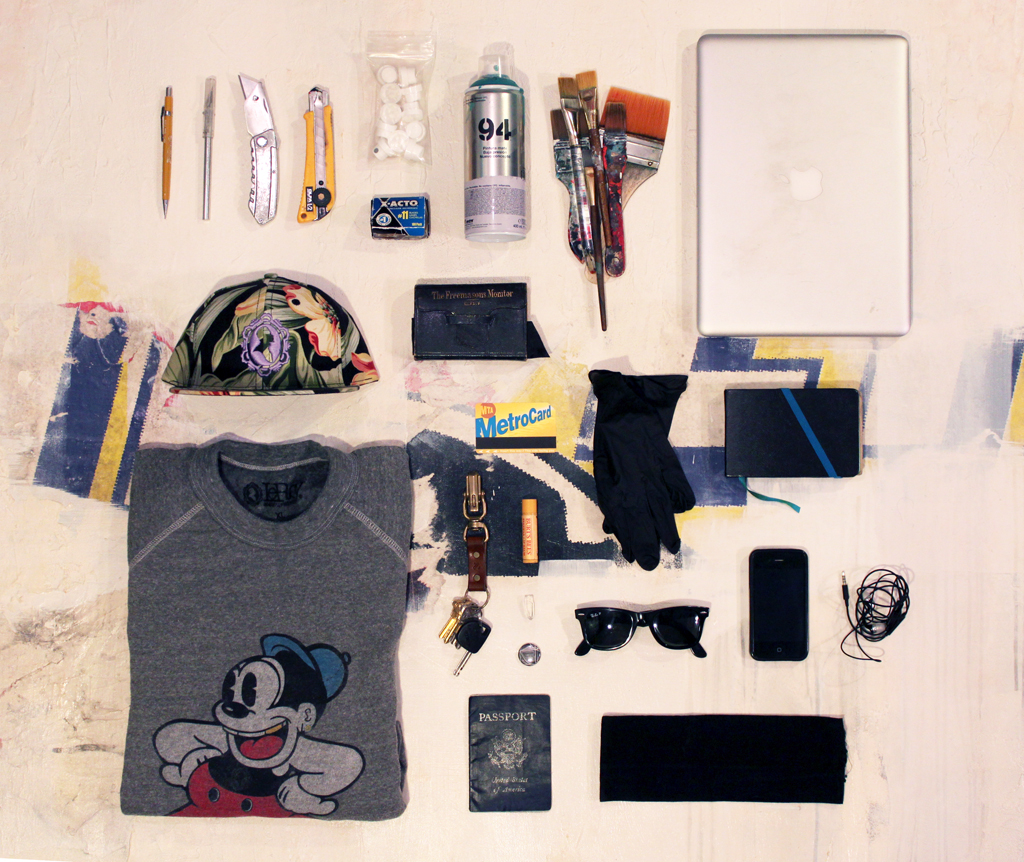 Ian Kuali'i's Essentials (from top left to bottom right) :
Pentel p209 Mechanical pencil, #11 X-acto Knife, Trusty Husky Box Cutter, Olfa Snap-Off Blade L-2, Assorted Spray Caps, 100 Pack #11 X-acto Blades, Montana Colors Brand 94 Spray Paint, Assorted Flat Acrylic Brushes, MacBook Pro, Leroy Jenkins Black Palm Jungle Snapback Cap, Leroy Jenkins Bosko Crew Neck Fleece Sweatshirt, Vintage 1864 The Freemasons Monitor, MTA Metrocard, All Black Disposable Nitrile Gloves, Moleskine Sketchbook, Billy Kirk Leather Keychain with Keys, Burt's Bee Lipbalm, Himalayan Quartz Crystal, 1 inch "5″ button given to him by Doze Green, Black Polarized Ray Ban Wayfarers, iPhone 4, Headphones, Passport, Black Bandana.
For more information and art work, please visit www.iankualii.com!