Posted on by Zaza
Lori Zimmer | Hearts Art Nerds
Tweet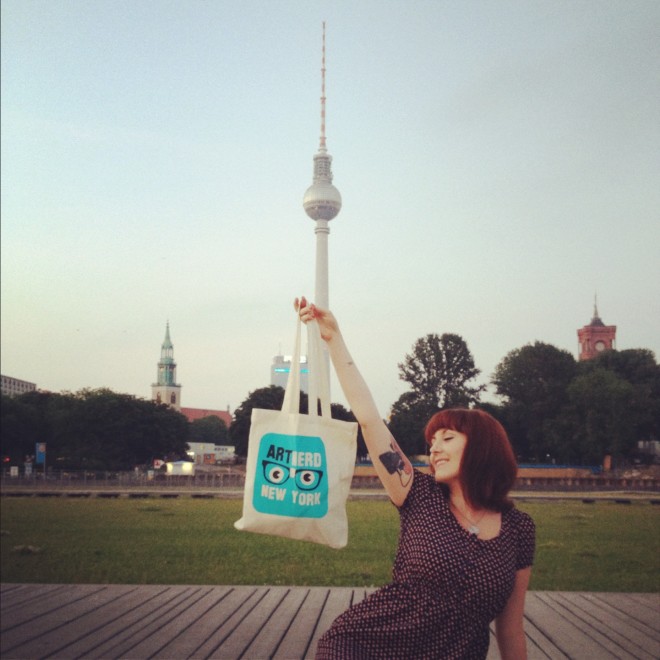 Walking down the streets in Berlin-Mitte with Lori Zimmer is pure entertainment. Not only will she point out the most bizarre and beautiful details you would have never noticed before, but her sharp wit will turn a stroll into a stand-up comedy show.  Interested in public sculptures, art work mounted on buildings, and monuments around Berlin, she is collecting data about anything that catches her eye.
Lori is multifold. A writer, curator, art consultant and friend to the artists. She writes for Patrick McMullan, ArtSlant, Inhabitat, wrote for Modart and No New Enemies, was Sales Director of Jonathan Levine Gallery, presented at Scope NY and Miami, is currently doing projects with 1xrun and Fluff PR, and is finalizing the last steps for an impressive show she is curating at heliumcowboy in Hamburg.
"Do you know anything about this piece?". Lori Zimmer points at the large Urania World Clock on Berlin's Alexanderplatz. It can't be missed- placed on a stone mosaic, the planetary-system monument is 10 meters high, made of stone and aluminum, and is a meeting place for young and old. But does really anyone know the background of the piece? Why was it built? What does it symbolize? What's the history of the piece? This is where detective art nerd Lori Zimmer comes in. Last year she launched her site Art Nerd New York- part travel guide, part art history – based on New York City's art sites. Zimmer points out the obvious and reveals secrets. Reading her posts about every art installment makes you feel like you could be standing right next to her, while she is telling you all about it. She writes the way she talks: humorous, spunky, and easy to understand… which is not common in the art world.
artvantgar.de: How did you come up with Art Nerd?
Lori Zimmer: It just sort of happened organically. I'm a natural tour guide, and a natural hoarder of art history information, so one day I just started writing it down. It actually started out much more nerdy, in an excel spread sheet then grew from there…
What's next in store for Art Nerd?
Well I hope to get a Warhol grant I applied for so I can keep on keeping on. Its just me and my web developer. I'd love to work on it more but I don't usually have the time to do so because a paying gig always takes precedence!
Before coming to Berlin two months ago, you were toying with the idea for a while. What is it about Berlin that made you want to spend time here?
There's a creative spirit here, and so many artists flock here for the cheap rent and vibe. I wanted to come here also for the controversial history of East vs West, but also the proximity to other cities in Europe. Berlin seemed like a relaxed home base for a summer of exploration.
What do you like and dislike about Berlin?
I've realized I'm a true New Yorker, and feel more comfortable working a lot harder than the relaxed vibe here.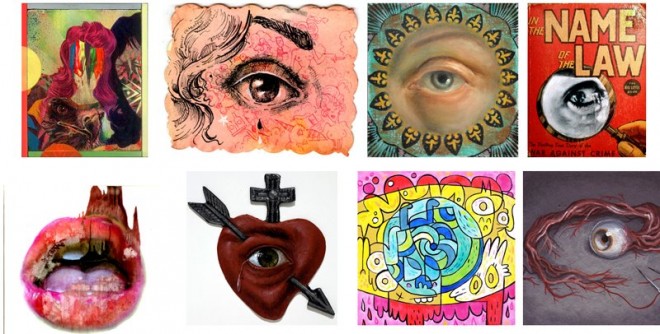 You have an eye-miniature themed show coming up at heliumcowboy in Hamburg on the 1st of September, and have a great list of participating artists ( Beau Stanton, Ian Kuali'i, Jon Burgerman, Molly Crabapple, Shark Toof, Travis Louie and many more) contributing to "George Hearts Maria". How did you come up with the show? What is it about eye miniatures that fascinates you?
I am the self proclaimed art nerd, and that said I've always had deep ties to art history. I feel that many group shows that have been happening over the last few years just sort of glop together a list of artists, with no thread or cohesion to the shows other than that is who the galleries know or could get. This is all fine and good, but I want to convey a message or thought or lesson just as much as the artists I choose do. I chose eye miniatures because I've always been into the romanticism of them and their origin- which stems directly from the forbidden love of Prince George of Wales and Maria Fitzherbert, a commoner. Because they had each other's eyes painted, a whole trend started that bled into the Victorian era before it died out. I envisioned a modern interpretation, and was eager to see if the artists I've invited into the show decided to take the literal route by painting eyes, or created works inspired by the love story… I ended up getting both which I think turned into a really well rounded show. Eyes are also probably the most relatable subject in art, so even if you don't know or care about the art history of eye miniatures, the resulting pieces are appealing.
We're mounting the show in a miniature Victorian style home within the gallery, designed by artist Ryan V. Brennan, that will include patterns and wallpapers designed by him. I wanted visitors to have more of a narrative experience than simply walking into a gallery, so we created this gallery within the gallery to amp up the romanticism of the show.
Has your life been different than you've imagined it to be?
My life is nothing like I imagined it to be- this summer is nothing like I did! Never did I think I'd be traveling from Berlin to London to Paris to Madrid to Hamburg. I thought I'd be locked into one job for life, but instead I get to do tons of different projects to keep everything fresh. I feel very lucky.
You are lucky – being able to work from anywhere in the world is what many people dream of. What are the pros and cons from being able to work from anywhere?
I really see only pros- it is really a life dream. Life is always too little time or too little money, now I can combine both and get work done from everywhere, like this summer curating a show in Hamburg while still writing for Inhabitat. It is a blessing.

If you could concentrate on doing solely one thing, what would it be and why?
I think I'd be really miserable doing just one thing, I need to be all over the place in order to be happy, but I do wish I could solidly work on Art Nerd 1-2 days a week.
In your articles and press releases you write in such a way that makes any subject comprehensible, which is really rare in the art world. Most texts pertaining to exhibitions or topics on anything art related makes you want to take out a thesaurus.
Thanks! I really strive for that. I do believe art is for everyone, but has layers of understanding that are open to be further analyzed or ignored. Whether you know anything (or want to) about art or not, we all have eyes, and can take a piece at aesthetic value. But when I write, I try to give a little enticement for those who don't know anything about it to be interested to want to read in further. But also, if they don't want to go beyond what they see, I see nothing wrong with that either.
What is the stupidest question anyone has ever asked you?
Why I like art…really that is such a pointless question. Because its pretty? Because it has meaning? Because it is cool? Why do you like food?
… mmh food. What has been your favorite german/Berlin dish so far?
Nothing… Club Mate. I haven't eaten one thing german! Not even a pretzel. Club Mate though. Definitely will miss that.
What is the funniest thing that has happened to you in an interview?
I was doing follow up for an interview with Kenny Scharf at one of his parties, and instead of listening to my questions, he started painting my face with neon paint instead.
What artists do you admire? Are there any art works that make you … emotional?
I am also all over the place in my taste in art. I love Mickalene Thomas and Jan Van Eyck, Justin Lowe and Jonah Freeman's Black Acid Co-Op that was at Deitch, JR, Christian Marclay, Claes Oldenburg, Yayoi Kusama, Gordon Matta-Clark, Ryan McNamara, Beau Stanton, so many…and basically anything that is experiential and leaves me feeling like I was a part of something. I recently saw my favorite painting of all time- Hieronymous Bosch's Garden of Earthly Delights from the 1500s at the Prado. It literally blew my mind. Afterward I had to sit down for like 30 minutes.
What do/don't you like about the art world? 
I have mixed feelings about the art world. I love it and understand it from experience and my Master's degree, but I also get easily annoyed by its snobbery and pretension. I guess it is like any industry full of egos and people constantly reminding you whose name is on the door. But that said, that doesn't bother me, I've gotten to the point where I just do what I do and live how I want to live, I'm in it because I love art, and I think that is apparent in the things I do.
It is! Now tell us about your awesome tattoo! 
Haha… yeah truly dorky. Basically, when I was 15 I bought a lobster pin at a vintage shop. Since then, people think I collect lobsters… so subsequently I do. But I really became a fan of Lobster Telephone not because I love Dali (although he is pretty cool), but because I was intrigued by Edward James, the patron of the four original working lobster phones. He rejected his British aristocracy and instead became the sponsor of the Surrealists, building a Surrealist Estate called Monkton House in the UK which had Dali's Mae West room, lobster phones, Giacometti andirons in the fireplace and other crazy works. James later moved to the rainforest in Mexico and built a Surrealist estate called Las Pozas where he lived with like 80 parrots until he died. he was a pretty interesting dude.
Somehow the Dali association in Florida caught wind that I was Lobster telephone for Halloween…and featured me in their newsletter. It was the epitome of my total dorkdom.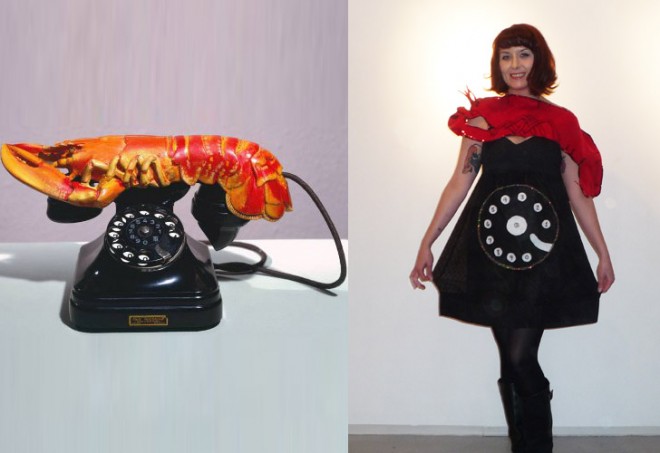 If you had $1,000,000 cash in your hand right now, what would you do with it?
I am boring, I'd pay back my student loans from grad school….ok then commission a piece from every artist I'm friends with. Gotta support.
Click on the following links for more information: Art Nerd New York , "George Hearts Maria" at heliumcowboy, Inhabitat.