Posted on by Zaza
Essentials: Jon Burgerman
Tweet
Pens are his friends! And with his friends, Jon Burgerman draws colorful, adorable and vibrant characters recognizable across the globe. Born in Birmingham, UK, the british expat lives and doodles in Brooklyn. Burgerman draws intertwining lines creating energetic characters coming to life. Not only does he draw, paint, animate, draw large-scale murals and design product, but he also makes music. Burgerman, his ukulele, and his close friend and fellow visual artist Jim Avignon compose music inspired by their obsession with salad and sense of worry. Their band name? Anxieteam! They have masked dancers bopping to the beats of "Let's Eat Soya" or "Bushwick Dream". Burgerman and Avignon also paint live, have salad-making workshops, and give away biscuits.
Burgerman's happy artwork has graced Kidrobot toys and Nike sneakers, appeared on Coca Cola and Pepsi cans, he has done projects for Levis, Sony MTV, Diesel, Puma, Miss Sixty, Virgin Atlantic, Hasbro and many many more. Let's not forget his iPhone app Inkstrumental: a great chance to meet his characters who come to life, dance and sing! It will make the toughest skull- tattooed bouncer giggle. Burgerman also exhibits internationally: his work can be found in the permanent collections of the Victoria & Albert Museum and the Science Museum in London, and has shown his artwork alongside Banksy, Damien Hirst and Vivien Westwood.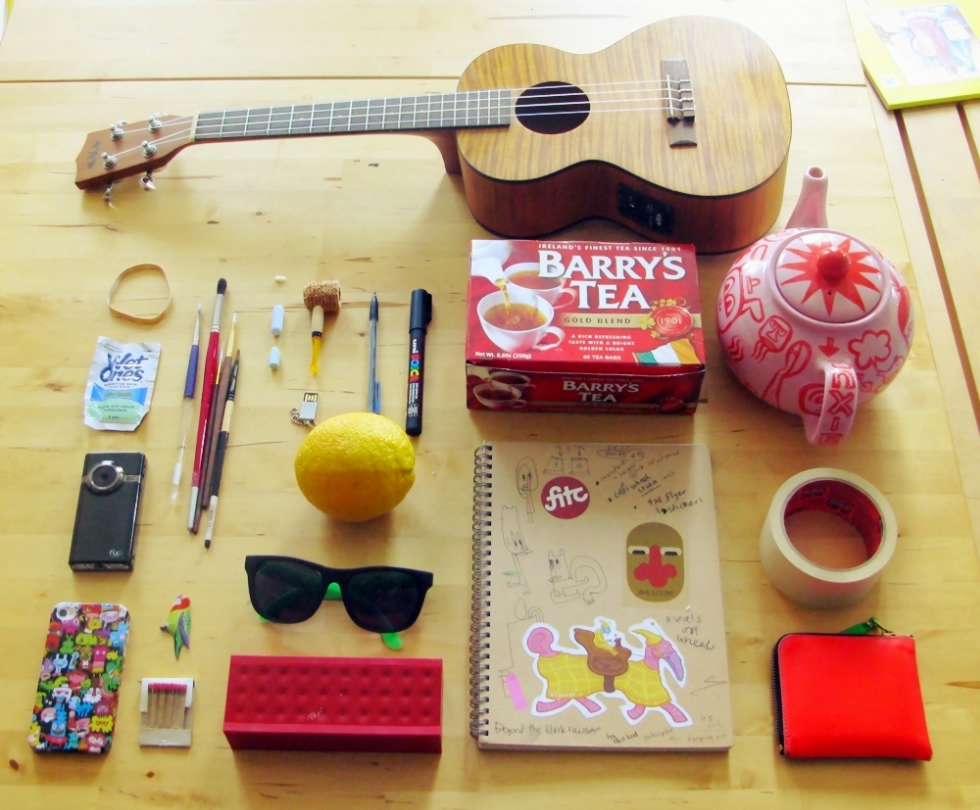 Burgerman explains his Essentials top left to bottom right:
My ukulele, good for playing gigs with my band Anxieteam.
Rubberband, I love rubberbands and they are always useful when you're in a pickle. You can fashion many handy gadgets and even weapons out of them.
Grain of rice from a rice cake. Like Elvish-bread from Lord Of The Rings it's amazingly filling.
Corn pipe, for smoking corn out of.
Plastic pencil, it's always sharp!
Posca pen, one of my favourite paint pens.
Box of Barry's Tea. Gotta have some decent tea with you at all times, especially if you're outside of the UK.
Pink tea pot. If you have some tea you'll need a tea pot to brew it in. This tea pot is hand decorated by my friend Jim Avignon.
'Wet Ones'. Out in the field or even at home there's going to be a time when your hands are going to be sticky. No-one enjoys having sticky fingers, that's why I always carry a wet wipe, or 'Wet Ones' with me.
Brushes. For painting and removing chalk from surfaces.
Chalk. I love drawing in chalk, it's like the politest form of graffiti.
A tiny USB stick my friend Daniel gave me for my birthday. I can't believe how small it is (the USB stick, not Daniel).
Orange. I have to eat an orange after every evening meal.
Flip camera. Very useful for video recording things with. Also because it's only got one button (a red record button) it's perfect for giving other people to operate when you are doing live drawing / performing / balancing donuts on ones head.
Cheap sunglasses. I got these for free but they are useful.
Sketchbook. I always get my sketchbooks from Muji, the paper is nice but also thin and light. I put stickers on the front which helps me distinguish between each book. I've been using the same sketchbooks for over 10 years now. I have at least 100 in storage back in the UK.
Masking tape. It's good for taping and erm… masking! Masking tape can be used to make lots of things when used in conjunction with cardboard.
iPhone. Yeah these things are handy, even at a compromise to ones sanity and cranial dexterity.
Metal badge of a parrot. Add to whatever you're wearing and you instantly look a little more dapper.
Book of matches. If you want to make fire these are handy.
Jambox speaker. Not the greatest speaker ever but it's small, bluetoothy, wireless and perfect for accompanying you with music wherever you may be sat / lying / working.
Comme de Garsons Wallet. One of the nicest gifts I've ever received. It doesn't come out so well in the photo but the orange red is bright and a bit fluorescent.
Upcoming Anxieteam gigs in Berlin and UK:
Sept 16 – Stroke Art Fair
Sept 17 – 'West Germany' venue in Berlin
Oct 1 – Common, Manchester
Oct 2 – The Great Gatsby, Sheffield
Oct 3 – Queen of Hoxton, London
Oct 5 – Primary, Nottingham
Upcoming Workshops, Lectures & Shows:
Sept 25 – 28 Workshops and lectures in Norway as part of Graffil and Nuart Festival
Oct 3rd – Workshop and lecture at the Southbank Centre London
Oct 6th – Book signing at Forbidden Planet, Shaftesbury Avenue London.
Oct 13th – Live drawing at New York Comic Con
Oct 27th – Exhibition in Mexico at ROJO BERMELO, Monterrey
Nov 2nd – Lecture at CutOut Festival, Mexico
For more information and artwork, visit jonburgerman.com
…and to check out his awesome store, go to burgerplex.com!