Posted on by Zaza
Walter De Maria: The 2000 Sculpture
Tweet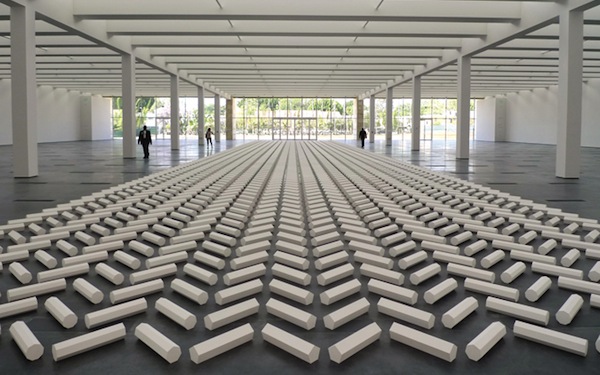 The Los Angeles County Museum of Art just announced that it will show Walter De Maria's monumental "The 2000 Sculpture" – a massive floor installation made up of 2,000 white polygons. The 164 feet long and 33 feet wide sculpture has been shown at both the Kunsthaus Zürich and Hamburger Bahnhof in Berlin in 2000. LACMA once exhibited the sculpture in 2010, but only for private viewing:
"The sculpture provides an ideal way to test the Resnick Pavilion's capacity to deal with large-scale work in the context of its architecture. Certain works of art will never benefit from traditional gallery spotlighting, and the installation of a monumental work as we acclimate this building gives the chance to test new strategies in anticipation of future projects where we may choose to use the entire space for major installations."
The private viewing must have been a resounding success, as De Maria will be showing his sculpture for six months starting October 1st, 2012 in Renzo Piano's Resnick Pavilion.
[ArtInfo]